Balenciaga Information Guide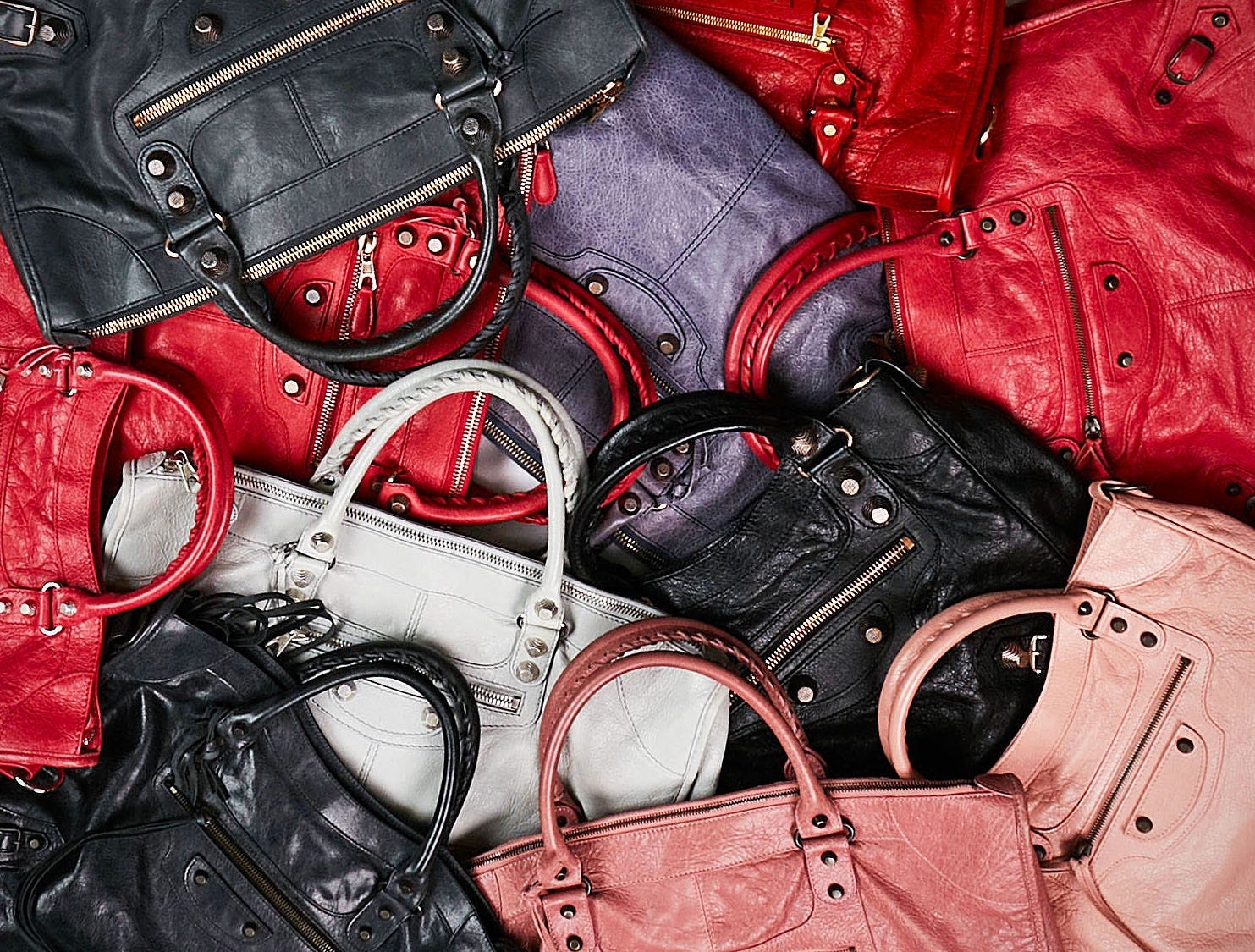 The couture house of Balenciaga was founded in San Sebastian Spain in 1918 by Cristobal Balenciaga. Eventually he moved his boutique to Paris due to the Spanish Civil War when he was 40 years old. Historically known for his fine couturier and eccentric "bubble skirts," Balenciaga influenced designers like Coco Chanel and Christian Dior. Post WWII, when Christian Dior was becoming famous for his '"New Look", Balenciaga started to design clothing that was more linear and sleek, breaking from the wildly popular hourglass silhouette. A number of designers worked under Cristobol, including, most notably, Oscar de la Renta and Hubert de Givenchy.
The House of Balenciaga was closed in 1968. Perhaps struck by grief, Cristobal Balenciaga later died in 1972. After his death, the House of Balenciaga lay dormant until, in 1986, Balenciaga was acquired by what is now known as Kering, and re-opened Balenciaga with a RTW line. Balenciaga has had several creative directors, Nicholas Ghesquiere, Alexander Wang, and currently Demna Gvasalia, known for taking concepts of street fashion to extremes and deconstructing brand beliefs.
An interesting fact that few may know about is; Balenciaga designed the clothing for french athletes for the 1992 Olympic Summer Games. Balenciaga is now known mainly for their fine leather goods, especially the classic Motorcycle bag and Motorcycle leather jackets.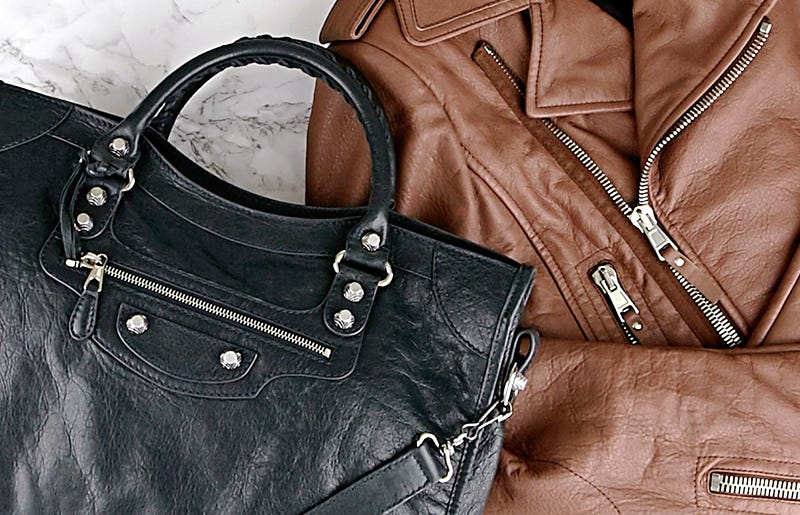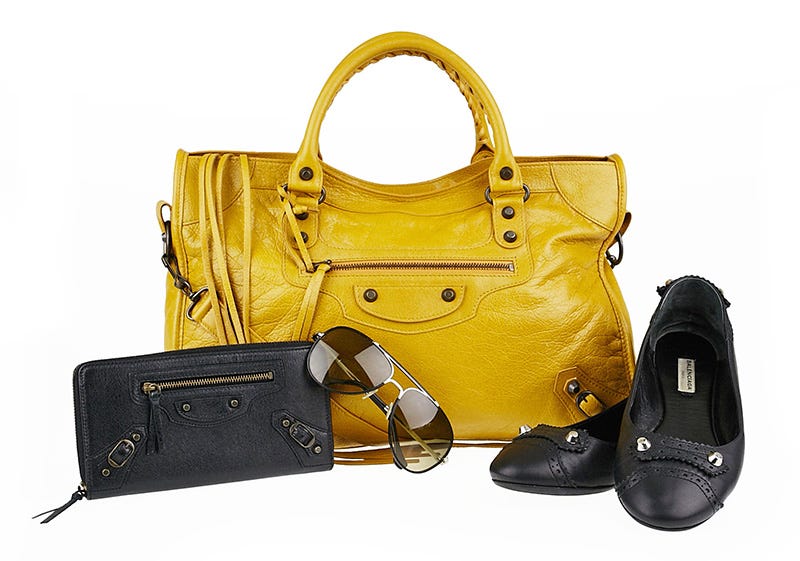 Balenciaga Leathers
Chevre (goatskin) leather
Balenciaga first started using distressed goatskin for their bags, however discontinued using it in S/S of 2008. Chevre was reintroduced in 2013 and is used for limited edition such as the 'Metallic Edge' line.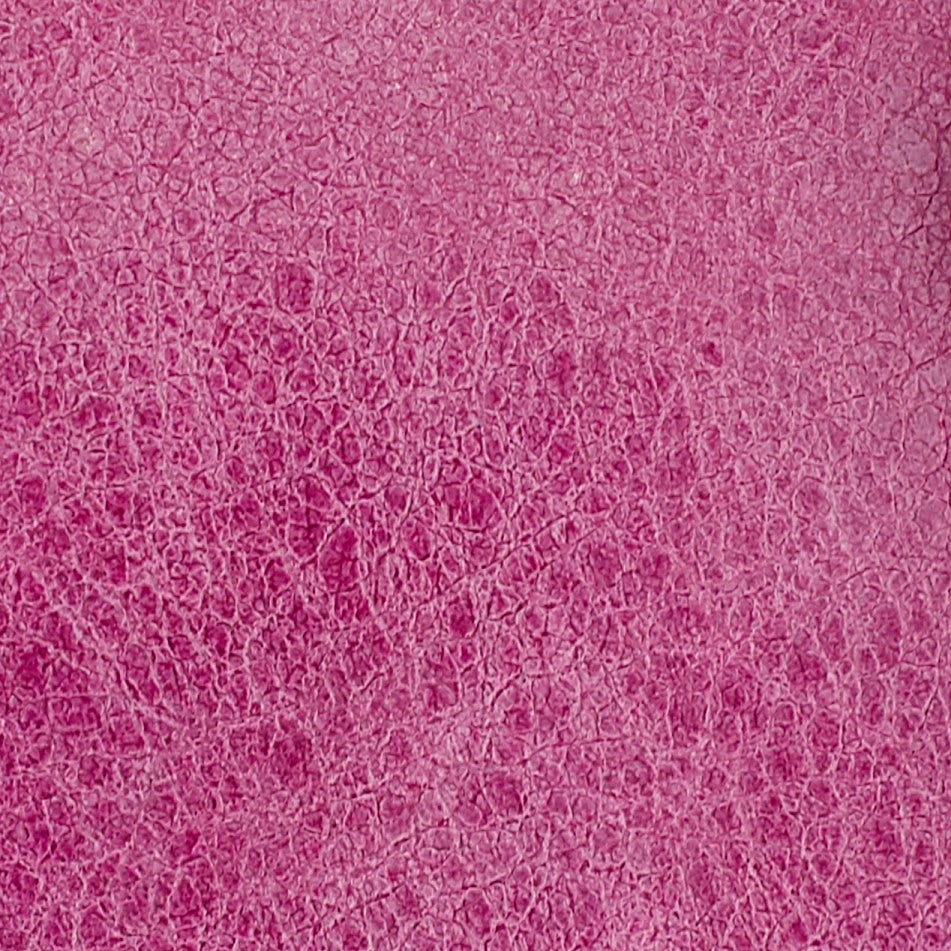 Agneau (lambskin) leather
Introduced in F/W of 2007, lambskin is very soft and wears well. Most Balenciaga handbags are made of Lambskin leather.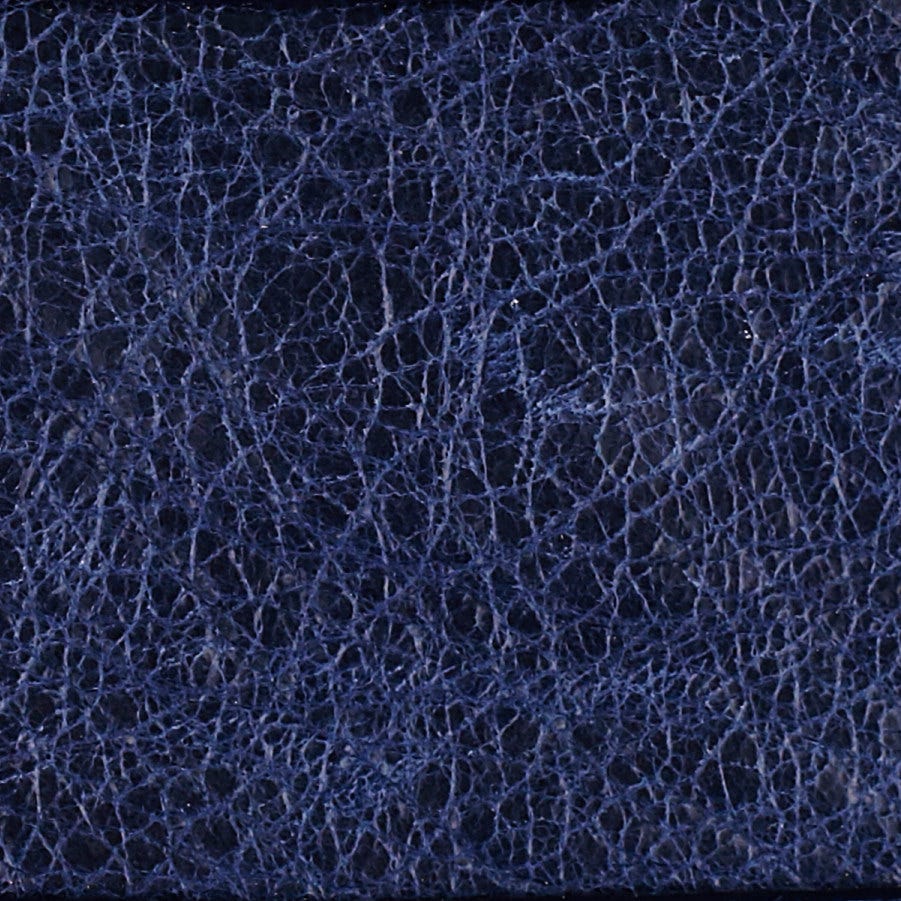 Veau (calfskin) leather
Balenciaga calfskin leather is durable and has pebbled grains. Veau leather is used for the Balenciaga Papier line and some limited edition pieces including the Balenciaga Metallic Edge line.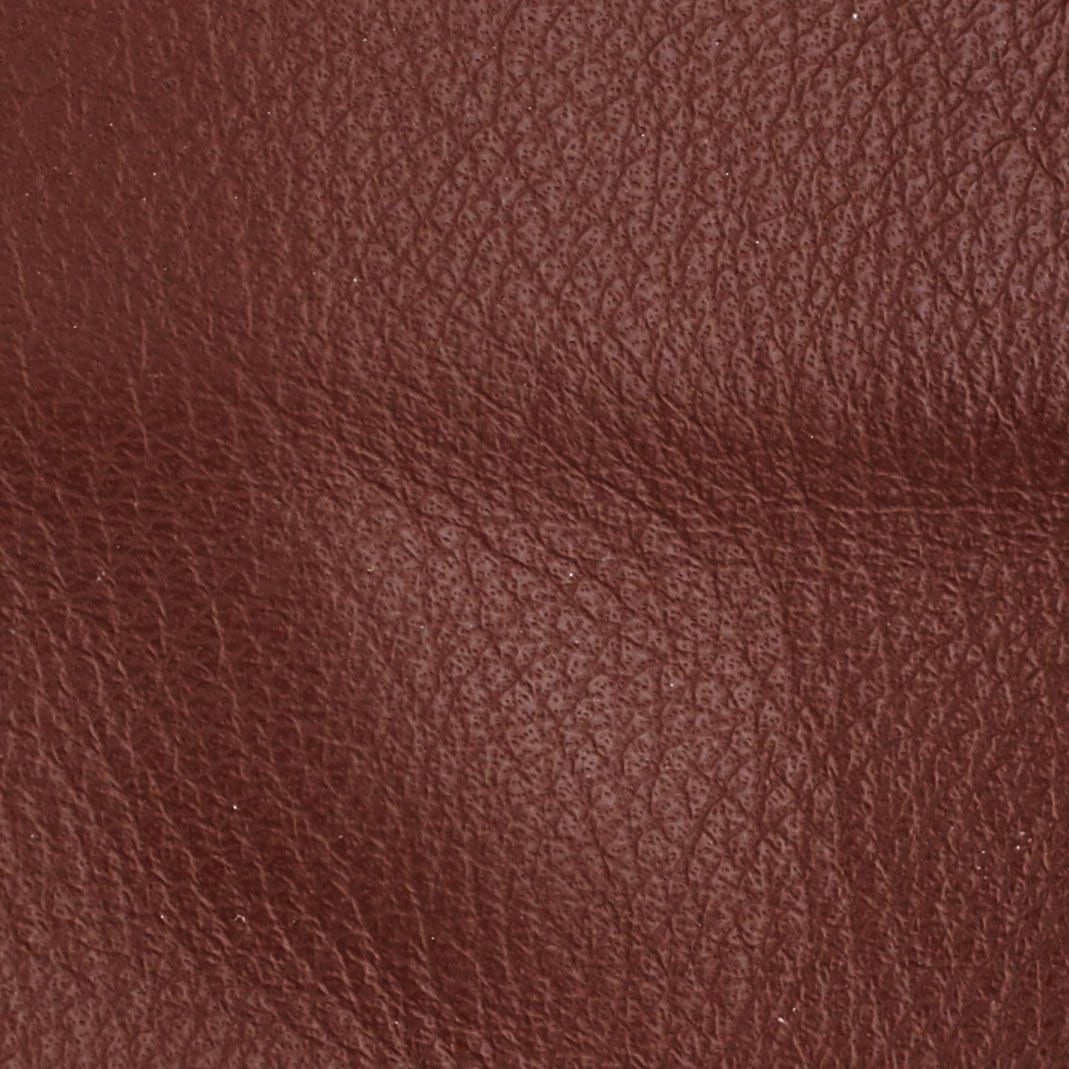 Balenciaga Hardware
One of Balenciaga's iconic designs is the hardware they use for their bags. The first type of hardware that was produced in 2000-2002 was the flat brass hardware which looked like thumb-tacks. Currently, Balenciaga produces Giant 12 hardware and Classic Antique Brass hardware.

Arena/Classic
Class Balenciaga hardware is small and comes in antique brass. Also known as RH or 'aged brass' which has been oxidized in color. It has been reproduced in silver and gold for seasonal bags. Classic hardware in Nickel and Gold was produced in 2010 to commemorate the 10th anniversary of the "classic bag."
Balenciaga Giant 21 hardware
Introduced in 2007. This size was later discontinued in 2012. This is large hardware that has the appearance of thimbles and was produced in silver, gold and rose gold. Balenciaga aficionados refer to the gold and silver 21 as GGH and GSH.
Balenciaga Giant 12 hardware
Introduced in 2012. It is smaller than the 21 size and also is produced in silver, gold and rose gold.
For further clarification: Giant 12 Hardware comes in two sizes:Giant 12 Hardware is slightly large for Day, Work and Weekender. The other styles Hip, Envelope, Mini Pompon, First, Town, City, Velo, Part-Time will have the smallest of the Giant 12 Hardware.
Rose Gold
Introduced in 2011, an interesting characteristic of this hardware is that the grooves of the thimbles are darkened to achieve that "vintage" look. The zippers remain a light pink gold with no darkening.
Brogues
Introduced in 2011. It is leather covered hardware (typically seen in 21 size) with the decorative perforation pattern, known as 'broguing'.
Metallic Edge
In 2014, Balenciaga introduced the Metallic Edge collection. Metal plates outline the details on the front of the bag with shiny
metal edge buckle detailing with silvertone hardware and goatskin leather.
BlackOut
Always playing with our imaginations, Balenciaga released the BlackOut collection in 2016. Instead of the stud hardware we know from Balenciaga, it's been replaced with perforated outlines of the design we know and love, along with plenty of
negative space on luxurious, ultra-matte leather.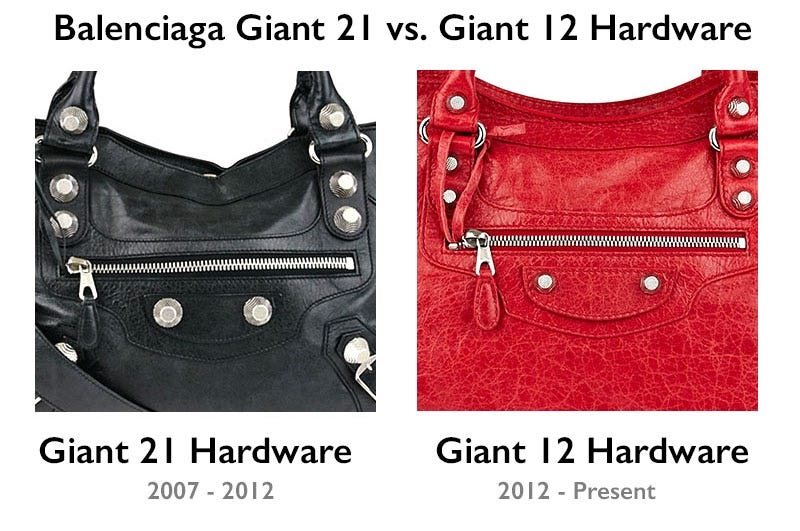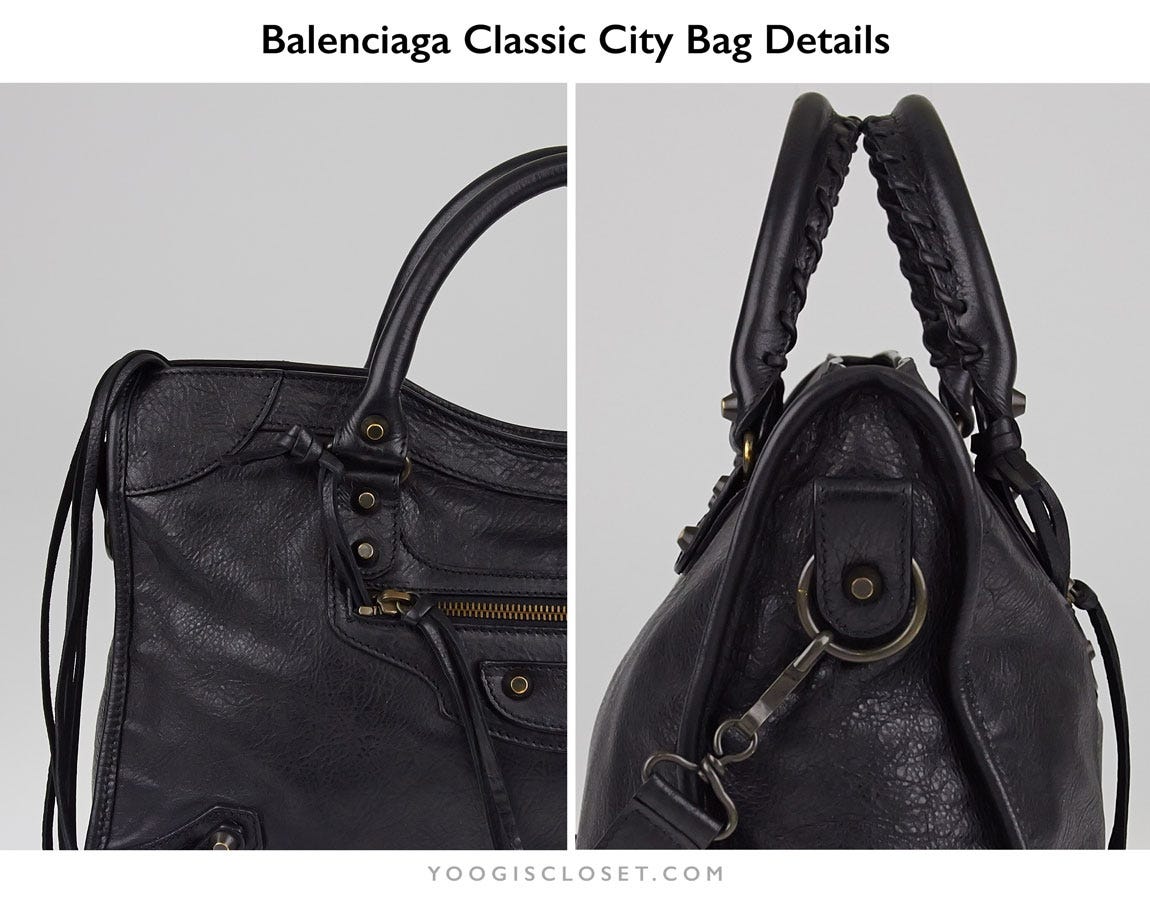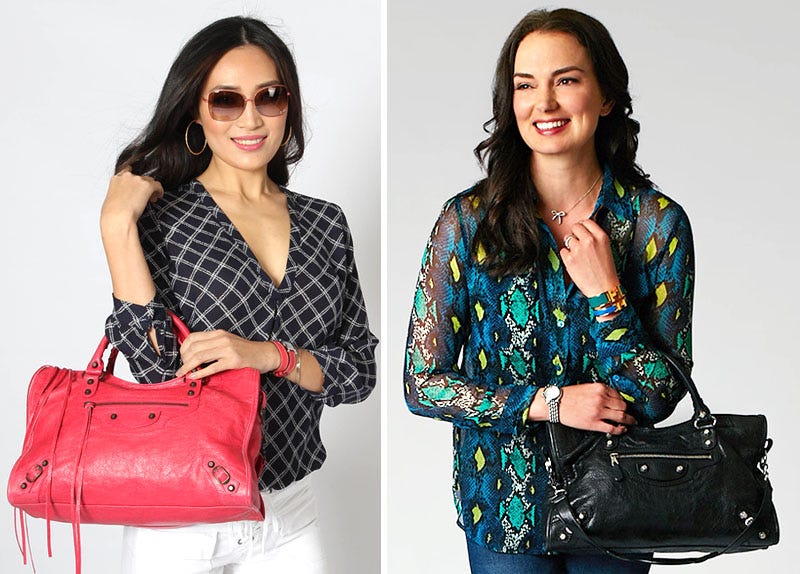 Classic City (left), Giant 12 City (right)
Balenciaga Handbag Styles
Balenciaga is known for their minimal handbag design with really nice, luxurious leathers and hardware detailing. In recent years, Balenciaga has released new designs like the notorious "IKEA" bag, bags covered in graffiti, and bags that go against everything Balenciaga bags once stood for (covered in logos). Like everything in life, fashion evolves, too. But no product has ever been more successful for Balenciaga than the Motorcycle City Bag.
Balenciaga Motorcycle Bags
Balenciaga bags with the original hardware and leather tassels, are known as the "Motorcycle" style. The first of this style were created in the early 2000s by then Creative Director Nicolas Ghesquière. At first the bags were dismissed as too soft and flimsy, as they did not fit in with the current trends of a more stiff and rigid bag. Ghesquière was able to convince Balenciaga's corporate office to make 25 prototype bags, some of which he gave to fashion editors and models such as Kate Moss. It was his belief that the rise in popularity was contributed to the bag being lightweight, with no logos. When the bags were first introduced, the only place to buy Balenciaga in the US was Barney's; the constraint in supply undoubtedly helped stoke desire in the bag's first seasons.
The Motorcycle bags made a huge impact on the handbag world: it went from cult favorite to classic in a few short seasons, and still remains on wishlists to this day. Balenciaga only releases a few leather colors per season, creating a lively resale market for the most sought-after colors and leathers. Another reason why these bags have been so desirable is the leather used to create them. Balenciaga uses a very lightweight yet durable (usually lambskin) leather that distresses naturally, so as the bag ages and wrinkles, no two bags will ever look the same.
The most popular Balenciaga bag, the Balenciaga City, is a slouchy leather bag that has similar characteristics as the rest of the Balenciaga Motorcycle line: soft leather, zipper details, bold round studs, two whipstitched leather top handles and a strap. The interior is lined with cotton material is easy to clean and highly durable.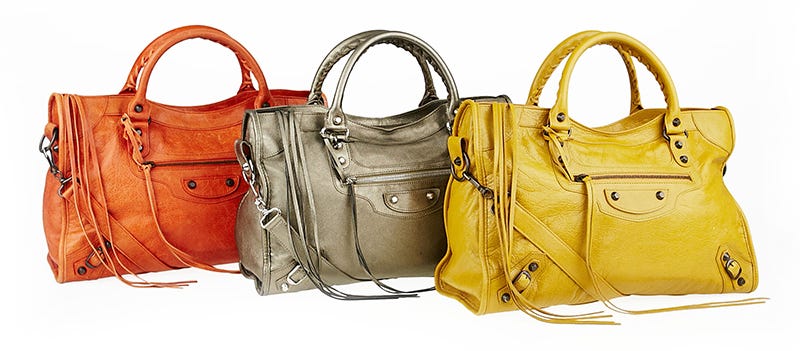 First 13.5″ x 7.5″ x 2.6″
City: 15″ x 9.4″ x 5.5″
Work: 18″ x 10.6″ x 8″
Part-Time: 16.5" L x 7" W x 8.5" H
Weekender: 15″ x 21″ x 9″
Day: 14″ x 14″ x 5″ with a 15″
Town: 13.5″ x 9.5″ x 3″
Twiggy: 7″ x 14″ x 6.5
Pompon: 18" L x 9" W x 15" H Mini: 9.5" L x 6.5" w x 9.25" H
Velo: 13" L x 7" W x 10.5" H
Envelope clutch : 12.5" L x 1" W x 7.5" H
Folk: 13" L x 4" W x 10.5" H
Midday 15.5" L x 6" W x 11.5" H
Papier: French for the word "paper", these are square totes and clutches with 'Motorcycle' characteristics with tassels on the zippers.
Besace: 15.5" L x 3" W x 13" H (at center)
Hip: 9" L x 2" W x 6" H
Mini City: 9.5" L x 3.25"W x 6"H
Mini All Afternoon: 8.5" L x 4" W x 7.5" H
Sunday: 9.5" L (at base) 15.5" L (at top) x 8.5" W x 11" H
Identifying Balenciaga bags by season
All Balenciaga bags will have leather tag inside with the Balenciaga name on the front, and embossed numbers on the back. Some bags will have a metal plate on the front tag, which will additionally have an alpha indicator at the end of its serial number. This alpha indicator designates the season that the color/bag comes from. Balenciaga is working its way backwards through the alphabet, so it's fairly easy to determine what season your bag is from, on bags with a metal tag, it is based on this letter.
Please note, newer bags that do not have the metal nameplate do have the letter stamped on the back of the tag along with the item's serial number.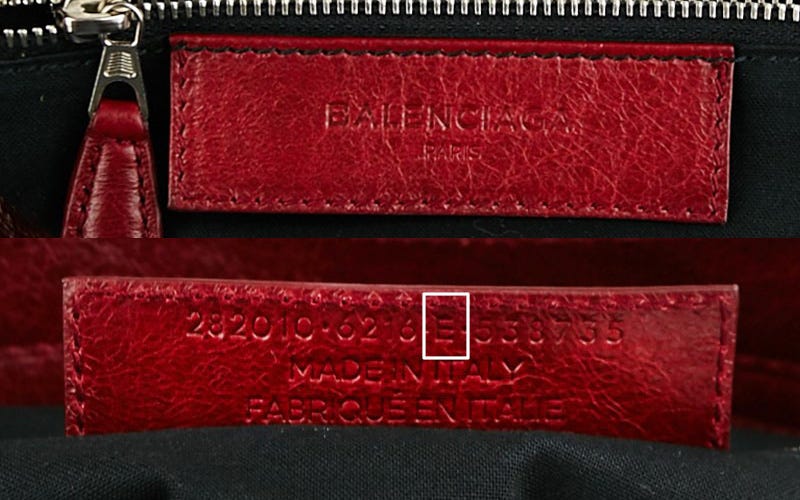 A = F/W 2017

B = S/S 2017

C = F/W 2016

D = S/S 2016

E = F/W 2015

F = S/S 2015

G = F/W 2014

H = S/S 2014

I = F/W 2013

L = S/S 2012

M = F/W 2011

N = S/S 2011

O = F/W 2010

P = S/S 2010

Q = F/W 2009

R = S/S 2009

S = F/W 2008

U = F/W 2007

V = S/S 2007

W = F/W 2006

Y = S/S 2006

Z = F/W 2005

A = S/S 2005

B = F/W 2004

C = S/S 2004

D = F/W 2003
Balenciaga Colors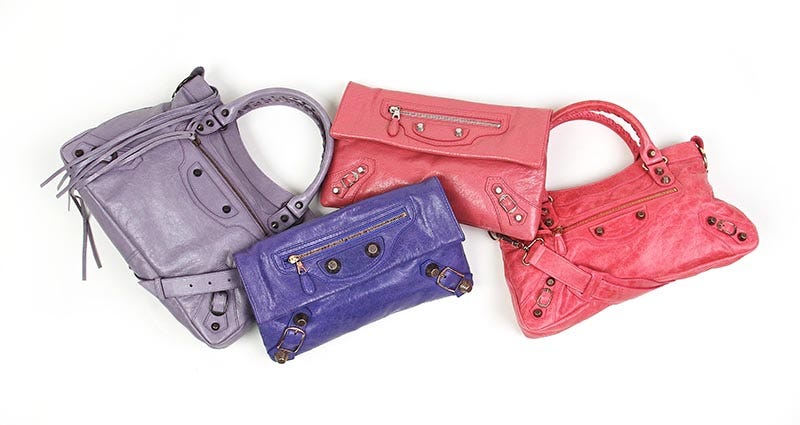 Originally made only in black and brown, Balenciaga started adding more and more colors once the popularity of the bags picked up. Now the bags can be found in a staggering array of hues. Colors are released during Spring/Summer and Fall/Winter with 'pre-collection' releases as well. Black, White and Anthracite are produced every season.
Many Balenciaga bags will have a four digit color code on the bag of the interior tag. For example, 1000 is black. Balenciaga also uses French names for their colors.

Shop Now