Chanel Information Guide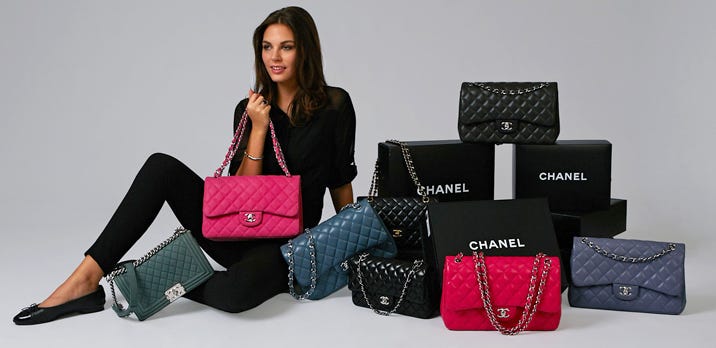 Chanel History
One of the most iconic brands to this day, Chanel handbags are ones that will remain timeless favorites. From its classic quilted pattern, interlocking CC's and iconic shapes, Chanel is a word that is synonymous with luxury and fine taste. In addition to luxury handbags, the House of Chanel is most known for the "Little Black Dress," the classic Tweed Suit, and No. 5 Perfume. Founded in 1909, Chanel remains a privately owned company, founded by its namesake Gabrielle 'Coco' Chanel. Her first shop was at 31 Rue Cambon in Paris.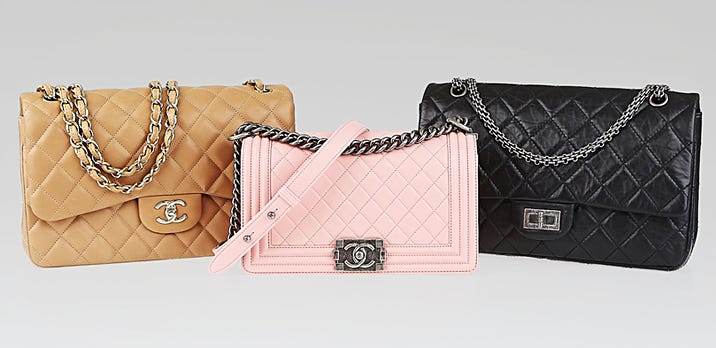 Chanel Flap Bag History
In February 1955, Coco Chanel introduced what would become the most widely recognizable handbag ever - double flap, with a mademoiselle closure and mademoiselle metal chain. Coco Chanel wanted her hands free and so she outfitted the bag with double chains that can easily be slung onto the shoulder or the crook of the arm. It became popularly known as the 2.55 flap bag. Over the years there have been many variations to the original 2.55 flap design: the use of leather interwoven through the chain, use of different leathers and fabrics, single flap vs. the original double flap, and different sizes available, etc. In 1983, Karl Lagerfeld joined the House of Chanel as Artistic Director. While Coco Chanel designed the original interlocking CC logo, it was Karl Lagerfeld who introduced the interlocking CC closure on the flaps.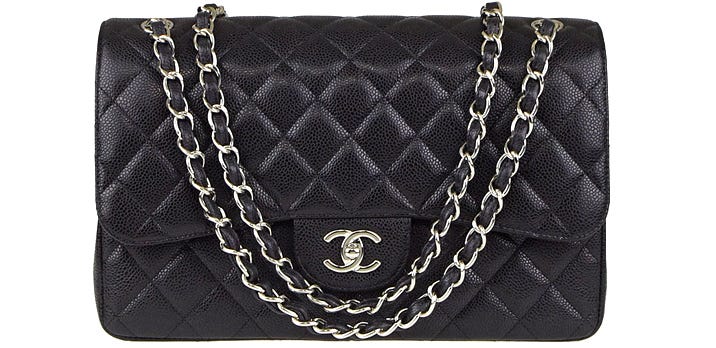 Chanel Classic Flap
The Chanel Classic Flap bag was originally created by Coco Chanel in the 1920s, and was re-designed in the 1980s by Karl Lagerfeld to include the now-iconic CC turnlock. These bags are referred to by Chanel as part of the "Timeless Classic" collection.
This bag comes in six sizes: the Mini, New Mini, Small, Medium, Jumbo and Maxi. The Jumbo and Maxi sizes were briefly available in a Single Flap style, but are now only available in a Double Flap style.
Chanel Reissue Flap
The Chanel flap bag was updated and released in February 1955, hence the name "2.55." Chanel released an exact copy of the original 2.55 in February 2005 in commemoration of the 50th anniversary of the creation of the original.
Sizes: 224, 225, 226, 227 228 (now discontinued)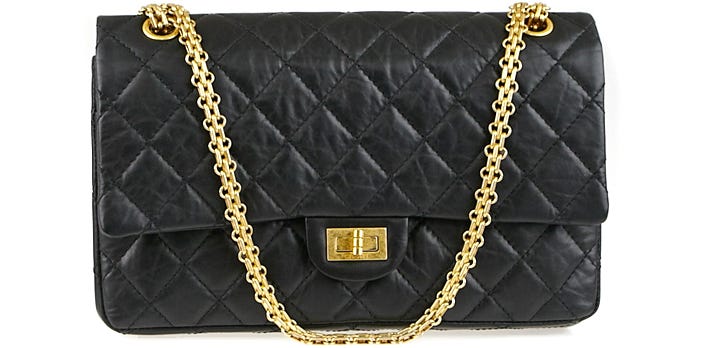 Classic Styles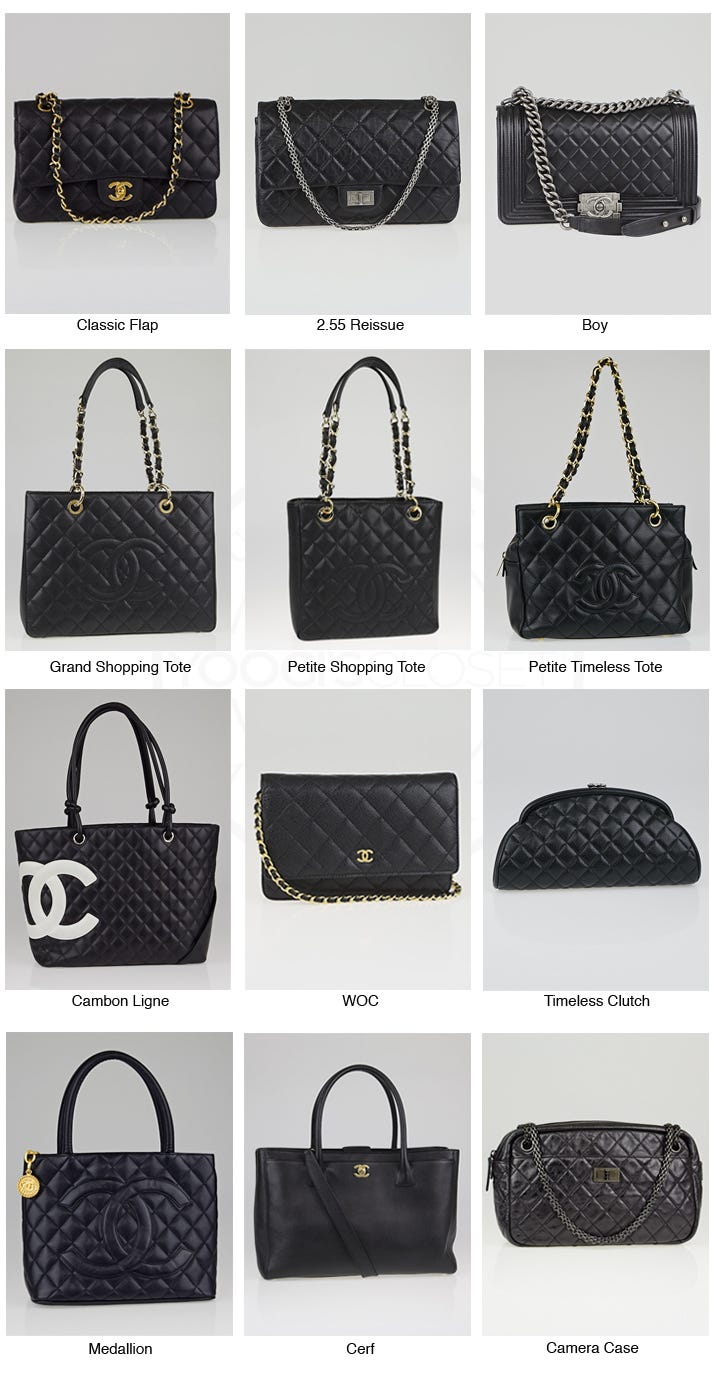 Cerf Tote
Released in 2005, this bag quickly became part of Chanel's classic collection. The Cerf comes in four sizes; Small, Regular, Tall and XL
Medallion
Once a classic style, this lovely tote has now been discontinued. Most recognizable by its oversized CC medallion zipper pull.
Shopping Totes (GST, PST, PTT)
This is one of Chanel's most popular classic styles that comes in a variety of sizes. Typically this bag is made in Caviar leather and comes in a variety of colors, most commonly though, in black and light beige. GST for Grand Shopping Tote, PST for Petite Shopping Tote, PTT for Petite Timeless Tote, and XL.
Cambon Ligne
Made from smooth calfskin leather with a bold CC logo at the side, this very popular style was first introduced in 2004-2005 and were immensely popular. The line has many different styles and color combinations. While most of this line is now discontinued, the Cambon style is still released in WOC bags and wallets.
Boy Bags
Karl Lagerfeld designed the Boy Collection as an interpretation of the boyish charm that Coco Chanel was known for. Karl was stated as saying that the very spirit of Chanel was inspired by Boy Capel, the love of her life; which is why this new collection is called the "Boy Chanel." Sizes: Small, Medium, New Medium and Large
Timeless Clutch
Also known as the 'Kisslock' clutch bag because of its CC frame closure. Typically this bag is only offered in Caviar and lambskin leather, however it is occasionally made with exotic python.
Camera Case
Though slightly elusive and hard to find - the Camera Case is released often as part of the classic collection. The camera case is released in various sizes and has evolved from being a small crossbody bag with the classic tassel pull closure.
WOC
One of the most popular styles, this wallet on a chain is constantly in creation using different styles and materials. The WOC is exactly what its name implies - the interior boasts several card slots, a zip pocket, and flat pockets, all on a chain strap. The chain can be tucked in or worn across the chest. Common Styles: Classic, Timeless, Boy, Half-Moon, Camellia, Cambon.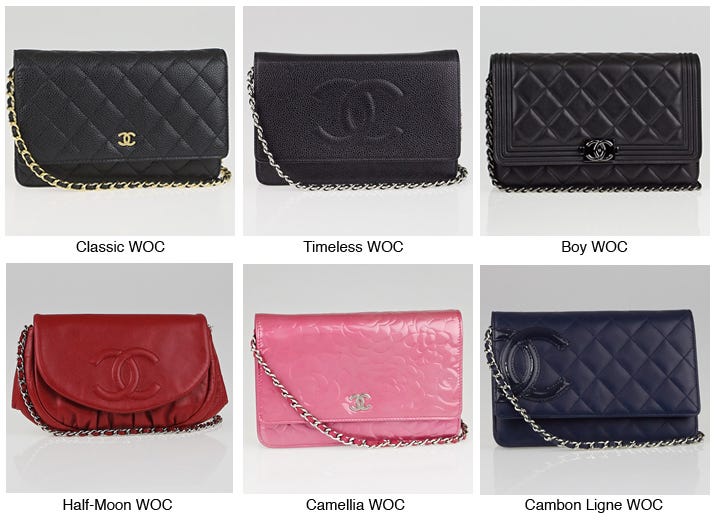 Main Materials
Chanel Caviar Leather
Grained calfskin leather that is known for being very durable and holds its shape very well. Light scratches and blemishes don't show up as easily on Caviar, which makes it a preference for everyday wear.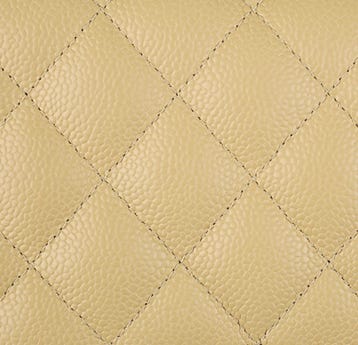 Chanel Lambskin Leather
Known for being soft, luxurious, and supple; but is prone to showing scratches and blemishes. Lambskin is very fragile and will flatten over time.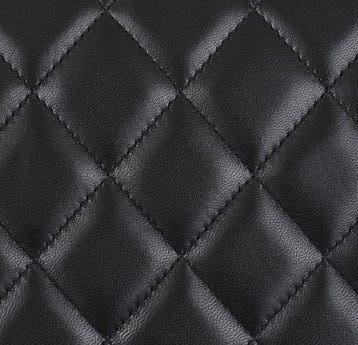 Chanel Crinkled Calfskin
Most commonly used for Reissue flaps, this leather has a pre-wrinkled look and is soft yet durable.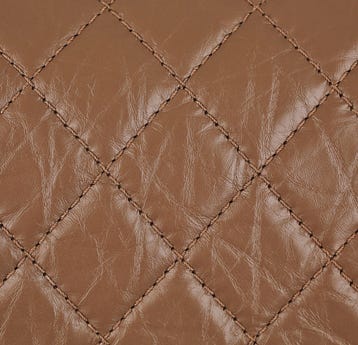 The Chanel Camellia Flower
As with most of Chanel's styles, Coco Chanel's personal history is reflected in many of the styles and designs we see to this day. The camellia flower is said to be Coco Chanel's favorite flower after receiving a bouquet of them from Boy Capel. She began pinning silk versions of it to the lapels of her jackets and in her hair. Chanel also features embossed leather with this pattern, featuring the CC logo inside the flowers.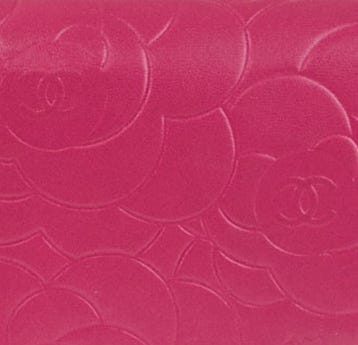 Chanel Patent Leather
Used for all classic styles, the patent leather is a glossy and beautiful. Patent leather can get transfer marks and are prone to wear marks such as fingerprints and scuffs if not properly taken care of.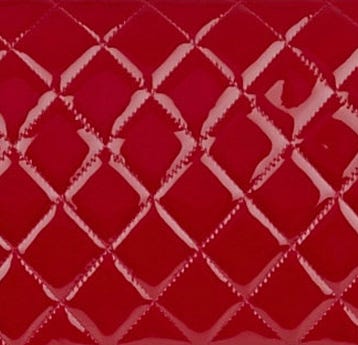 Hardware
Chanel Chain Handles
Inspired by the likeness of a soldier bag's strap, over the years Chanel has introduced different kinds of chains on their bags all of which are iconic in their own right. The most popular and widely recognized are the leather entwined with chain that are on their classic flaps. It is said that these chains resemble those that were used by nuns as key holders at that time when Chanel was growing up in an orphanage.
Classic Chanel Chain Leather

Chanel Reissue chain

Bijoux chain
Now discontinued this chain was featured on classic flap bags and the reissue styles. Chanel produced the Bijoux chain in 2007 & 2008. These chains are wide-set chain links.

Chanel Closures and Locks
CC turnlock
In 1983 when Karl Lagerfeld took over as head designer at Chanel, he introduced the CC turn-lock design to the classic flap bags.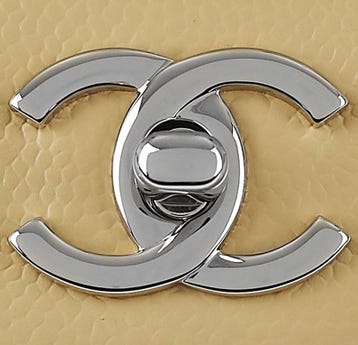 Mademoiselle turnlock
In 2005, Karl Lagerfeld reissued Coco Chanel's classic flap design in commemoration of the 50th anniversary of the bag. This bag is now referred to as the 'Reissue' style and 'Mademoiselle' lock. The term "Mademoiselle Lock" is supposedly named after Coco never marrying.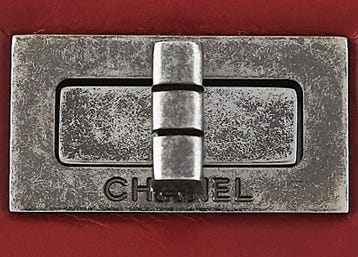 Boy logo closure
Introduced in Fall/Winter 2011 by Karl Lagerfeld, this unique lock features the iconic CC logo with a unique-push clasp on each side. Karl was stated as saying that the very spirit of Chanel was inspired by Boy Capel, the love of her life; which is why the collection is called the "Boy Chanel."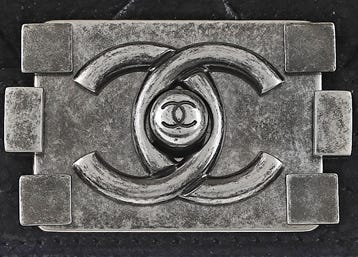 Seasonal Styles
Chanel has been a fixture on runway shows for the last several decades. With Karl Lagerfeld at the helm, runway shows feature fashion and handbags varying in style, inspiration, and color. Seasonal styles of leather goods are released following each runway collection. We have compiled a list of some of the more common season styles and a visual chart with the name of the collection. Please note, this is not a comprehensive list.
Recent Limited Edition Styles by Season:
Lady Braid: 2005-2006

Ultimate Soft: Introduced in 2005 but was released in 2006-2008

Outdoor Ligne: 2006

Luxe Ligne: 2006-2007

Paris-Biarritz: Released in 2006-2011 in limited quanities

Portobello: Released in 2008

Modern Chain: 2008

Hampton CC: First released in Fall 2011, re-released in Spring 2013

Ultra Stitch: Released in 2011

French Riviera: Released in 2011; re-released 2012

On-the-Road: Fall 2011

Chain Around: Spring 2011

Crossing Times: Released in Fall/Winter 2013

Retro Chain: Spring 2011

Takeaway: Released in 2011

In the Business: Released in 2011

New Bubble: Released Fall/Winter 2012

Chic Caviar: 2012

Lady Pearly: Released in Fall 2012

Shiva: Released Pre Fall 2012

Perfect Edge: Released in Fall 2012

Country Chic: Released in 2012

Simply CC: Released in 2012

Coco Pleats: Released Fall/Winter 2012

In-the-Mix: Released in Spring 2012

CC Lock Bag: Pre-Fall 2012

Coco Pleats: 2012

Midnight Stones Clutch: 2012

Chic Quilt: 2013

Up in the Air: Released Spring 2013

Deauville: Released in 2013

Thin City: Released in Spring 2013

Hula Hoop: S/S Runway 2013

Chic With Me: Released in 2013

Easy: Released in in S/S 2013, re-released in Cruise 2014

Soft Elegance: Pre Fall 2013

Castle Rock: Released Pre Fall 2013

Coco Twin: 2013

Coco Sporran: Fall 2013 Paris/Edinburgh collection

Globe Trotter: Fall 2013

Fresh Air: Spring/Summer 2013

CC Crown: Spring/Summer 2013

Boy Reverso: Fall/Winter 2013

Stitch It Bag: 2013

Shopping Fever Tote: Released in Pre-Spring 2014

Retro Class: Released 2014

Duo Flap: Released in Pre-Fall 2014

Golden Class: 2014

Coco Boy Bag: Cruise 2015

Girl Bag: Spring 2015
Seasonal Style Reference Chart:

More About Chanel
Chanel Authentication Guide & Date Codes
Shop Now