Gucci Information Guide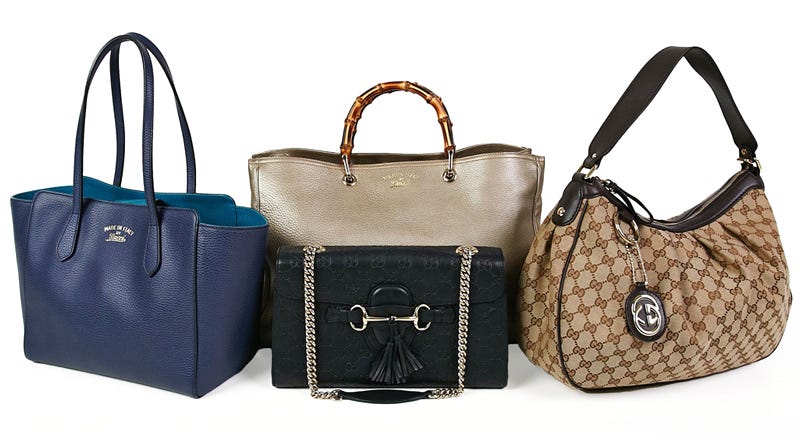 History of Gucci
The house of Gucci as we know it today was established in 1921 by Guccio Gucci as a leather goods/luggage store in Florence, Italy. Many of Guccio's Italian clients were local horse-riding aristocrats, and their demand for riding gear led Gucci to develop its unique Horsebit icon and many other symbols of equestrian origin. Mr. Gucci developed an understanding about how much the world of horses meant to the rich and privileged, and thus aspired to use equestrian imagery in many designs.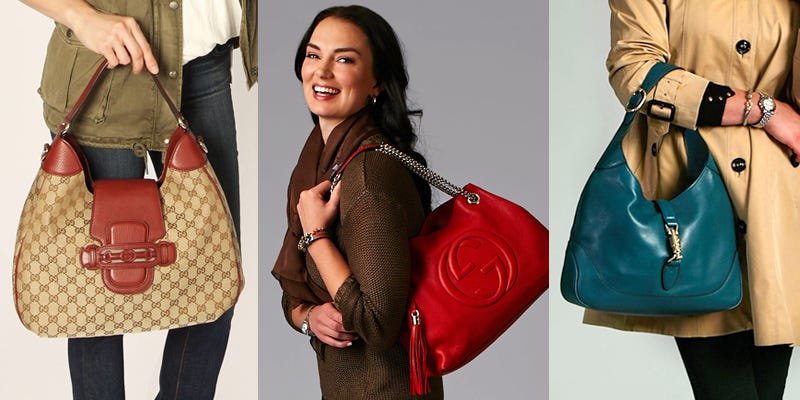 During Mussolini's reign in Italy, expensive materials were hard to acquire so Gucci began using innovative materials on vintage Gucci handbags such as canvas, jute and hemp to create handbags and luggage. These materials are still used to create luxury handbags, luggage and clothing.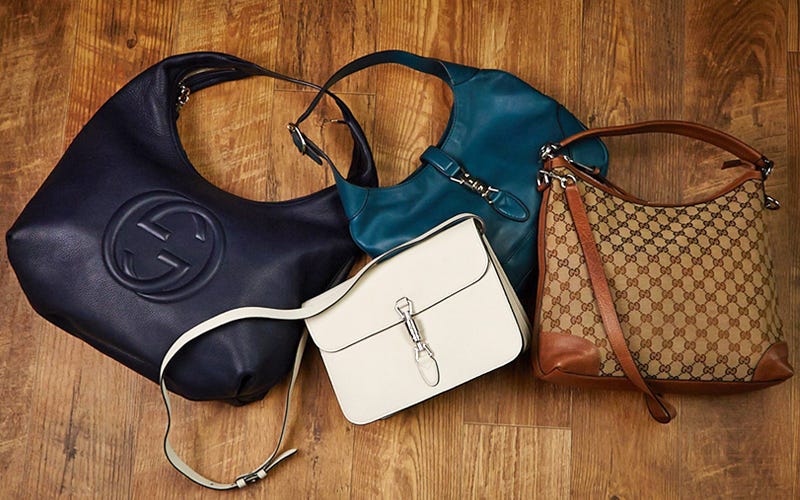 Tom Ford became Creative Director of Gucci in 1994. By bringing his uniquely glamorous visions to Gucci, sales increased by 90%. In 1999, Gucci entered into an alliance with Pinault-Printemps-Redoute (PPR - now known as Kering), transforming itself from a single brand company into a multi-brand luxury group. Tom Ford and Dominco De Sole (then President and CEO of Gucci) formed the "Gucci Group" under the subsidiary of Kering, who also owns primary shares of Yves Saint Laurent, Bottega Veneta, Balenciaga, and other luxury brands.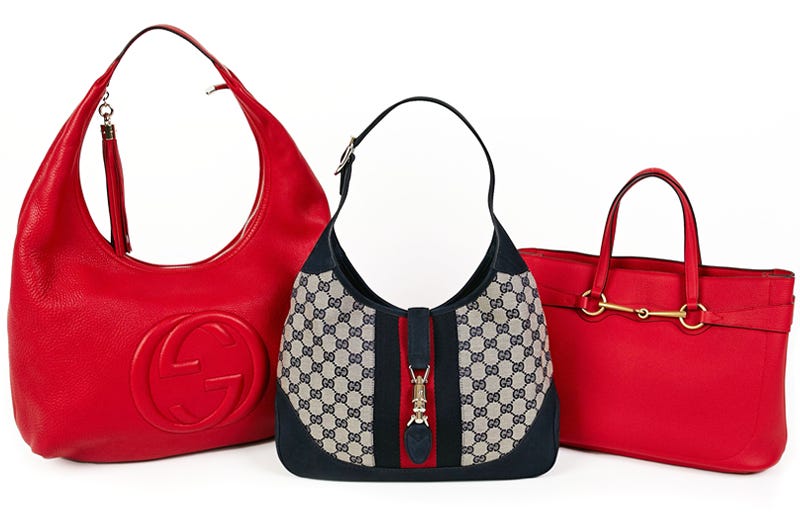 As of January 2015, Alessandro Michele is serving as Creative Director. Gucci continues to be a leader in the world of fashion and luxury goods. Their mix of materials, prints and unique design details make this iconic brand instantly recognizable, highly celebrated and sought after.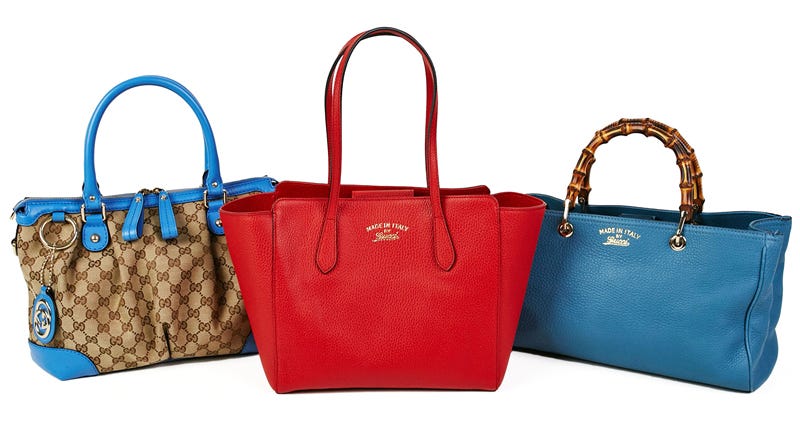 Gucci Fabric
Gucci is known for creating their most popular styles in a variety of fabrics. Here, we will go into detail about several popular Gucci fabrics and textiles, such as original GG canvas, Guccissima leather, Diamante, and Flora.
Gucci GG Canvas
Established in the mid 1960s and an instantly recognizable as a symbol of luxury and leisure, the Original GG canvas diamond pattern transcends style and seasons. Crafted out of durable woven canvas and commonly joined with leather trim, the GG canvas is a customer favorite and a great staple for years to come.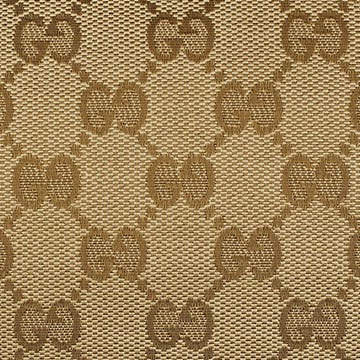 Gucci Vintage Web
First created in the 1950's in red and green, this strip of fabric was another equestrian inspired design derived from a saddle girth. The saddle girth is a piece of equipment placed on the saddle in order to keep it in place, this was also referred to as a "Web". Throughout Gucci's history they have utilized this signature look in a variety of materials and colors.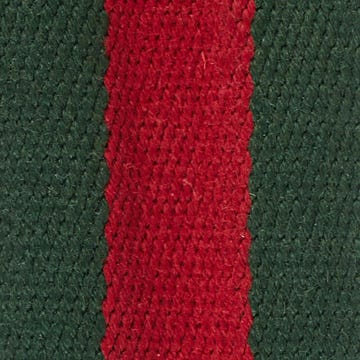 Gucci Guccissima
Guccissima in Italian literally means the "most Gucci." The Guccissima pattern features the interlocking GG logo embossed in 2006 by Creative Director Frida Giannini.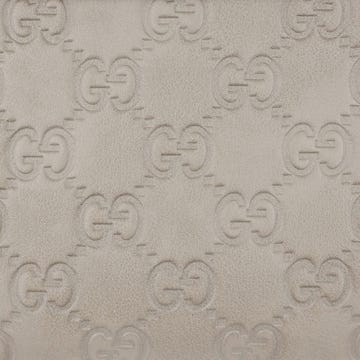 Gucci Microguccissima
An adorable mini version of the classic Guccissima, this style can be found on current styles and is made in classic styles as well.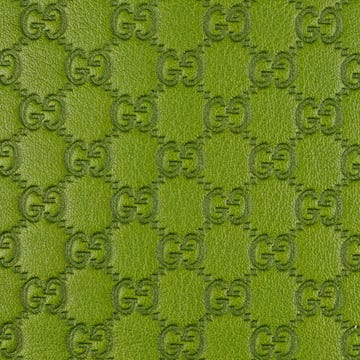 Gucci Diamante
Originally created in the mid-1930s, the Diamante pattern was first woven onto hemp and used on luggage. What started as an innovative solution to pre-war leather shortages became the Gucci's first iconic print and precursor to the famous GG logo. Now created in canvas and textured leather.
Gucci Flora
Inspired by a personal request by Grace Kelly in 1966, the now famous Flora silk print was created for the Monaco princess. This print was then reimagined by Frida Giannini in 2006 and translated on bags, shoes, and small leather goods. Though not well received by critics, the Flora pattern was deemed a success by fashionista's. The pattern is still being used today in a variety of colors.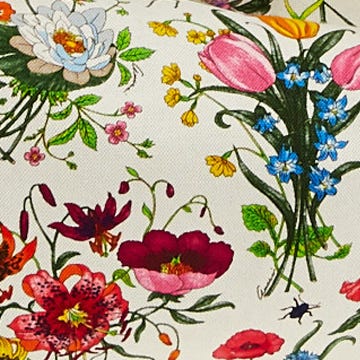 Hardware and Iconic Features
Gucci Interlocking GG
The double G logo came about in the 1960s from the creator's initials Guccio Gucci to represent the quality associated with the brand's creator. The Interlocking GG logo is now used on all accessories.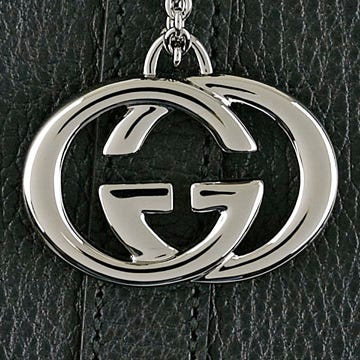 Gucci Horsebit/Icon Bit
Originally introduced in 1953 on a pair of loafers, the horsebit/icon bit design is seen throughout Gucci handbags, leather goods and clothing as an ode to their equestrian beginnings.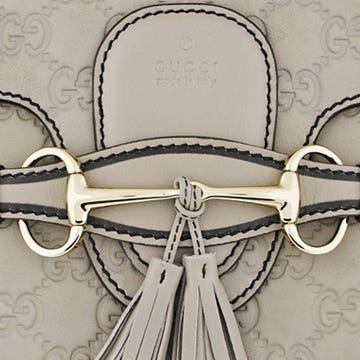 Gucci Bamboo
During the 1940s, the iconic bamboo handle was created out of burnishing cane sticks. The curve of the handle was inspired by the curve of a saddle. The bamboo became the first of Gucci's many iconic symbols and became a favorite of celebrities and royalty due to its distinct and unique detailing. The bamboo bag gradually fell into the archives until Frida Giannini rediscovered it in the early 2000s. Reimagined for the new millennium with a sleeker shape and more robust construction, the bamboo bags still remain a favorite today.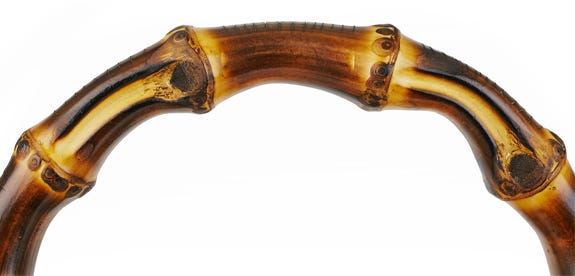 Gucci Piston Lock
Another one of Gucci's innovative designs, the piston lock is most notably features on the classic 'Jackie' bag as well as the updated version of this bag and for their 'Soft Jackie' collection. The Piston lock is an instantly recognizable Gucci feature.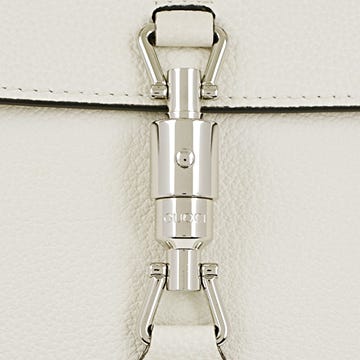 Gucci Crest
After the war, the Gucci crest, which showed a shield and armored knight surrounded by a ribbon inscribed with the family name, became synonymous with the city of Florence.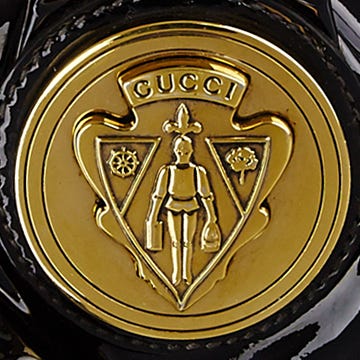 Gucci Lady Lock
The Lady Lock is part of the collection released for Fall/Winter 2013. The signature Gucci logo embossed cappuccio and lock are typically crafted in shiny metal and accompany a collection of handbags that have a rounded, minimalist shape.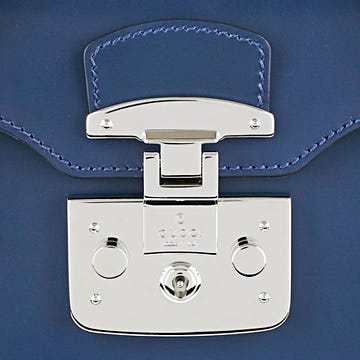 Classic Gucci Styles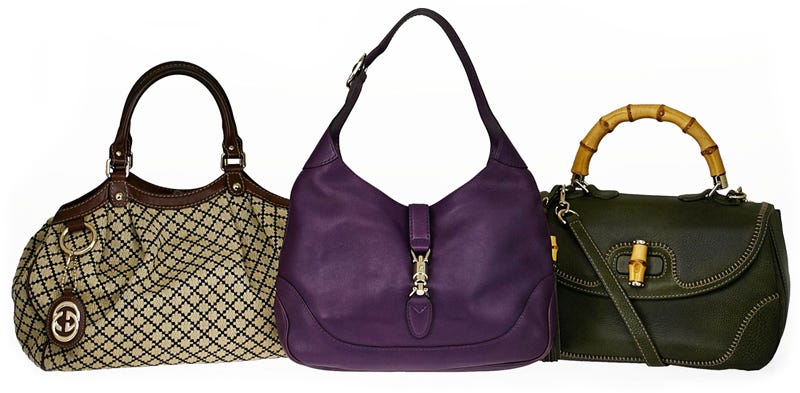 Jackie
Named after Jackie Kennedy who originally carried the Gucci Shoulder bag. It was later renamed the 'Jackie O' bag. Gucci's New Jackie Bag was redesigned and reintroduced by Giannini in 2009.
Sukey
Gucci's Sukey bag has the details that you know and love! The iconic details of the Sukey collection include an interlocking GG key charm from a larger O-ring and leather trimming.
Boston
One of Gucci's most recognizable handbags, the Gucci Boston Bag has a classic barrel shape with top handles and a zip-top closure. Newer versions also have a long shoulder strap for hands-free carrying. The Boston bag comes in a variety of colors and materials.
Bamboo Top Handle
The original Bamboo bag was released in 1947, with a curvy silhouette inspired by a saddle and a Bamboo top handle. In the late 2000s, the Bamboo Bag was re-released with a more modern shape and refined details. The re-released Bamboo Top Handle bag is said to be composed of 140 separate pieces, which are handcrafted in Gucci's Florentine workshops. Rumor has it that a single Bamboo bag takes 13 hours to complete.
Pelham
The Gucci Pelham shoulder bag has bohemian detailing such as woven leather handles, Horsebelt hardware details, and a rounded silhouette.
Hysteria
The Gucci Hysteria collection features recognizable features such as pleated leather and the iconic round Gucci Crest logo.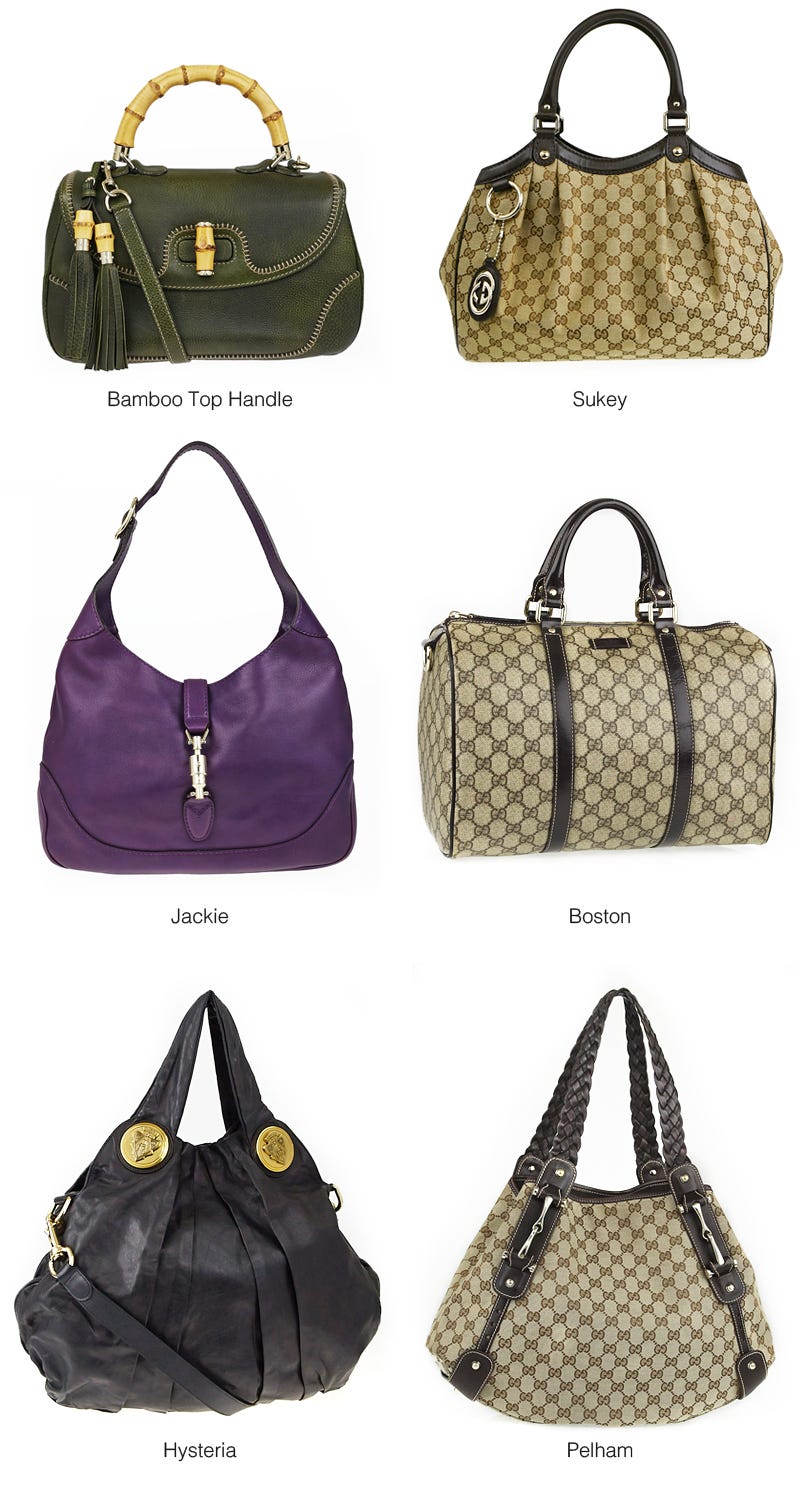 Modern Gucci Styles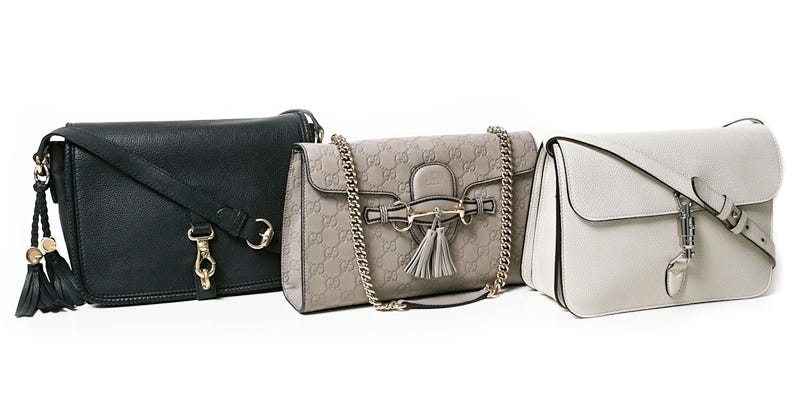 Soho
The Soho line has two notable features throughout its collection: an embroidered interlocking GG logo and a leather tassel. It has been reimagined in several different versions including a small crossbody and tote style, dubbed the "Soho Chain" and the increasingly popular "Soho Hobo".
1973
Released in 2010, the 1973 collection has a slender version of the GG logo in bold goldtone metal. This vintage inspired collection typically highlights shapes from the Gucci archives.
Emily Chain
Besides the aforementioned chain that highlights each handle, the Emily Chain also boasts a primary design detail front and center on each of its variations: a single iconic Gucci Horsebit with two leather tassels.
Swing
The Gucci Swing tote is one of the more minimal of Gucci designs. Crafted out of pebbled leather, it boasts a slight-winged tote style with a simple "Gucci Made in France" gold foil stamp at the center.
Stirrup
The Stirrup bag was inspired by an original Gucci design from 1975. The Stirrup features a structured shape with stirrup detailing on the handles and closure.
Marrakech
The Marrakech also features leather tassels, but this time highlighted by tiny "G" charms at the top. The handles in the Marrakech line are usually woven or feature woven trim, similar to the Pelham collection.
Bucket Bag
The Gucci Bucket bag features the classic cinching closure at the top and a long strap for casual wear.
Nice
The Nice collection features spur details on the handles and slender leather trim.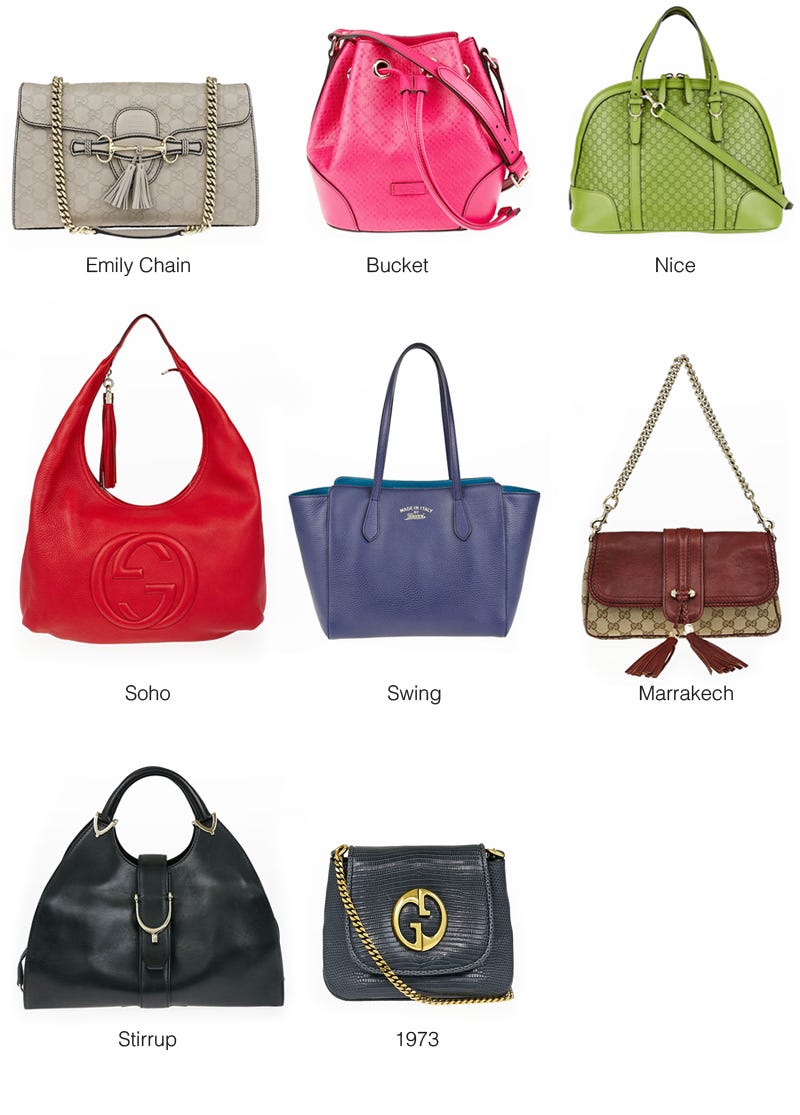 Shop Now