Show your LOVE for Yoogi's Closet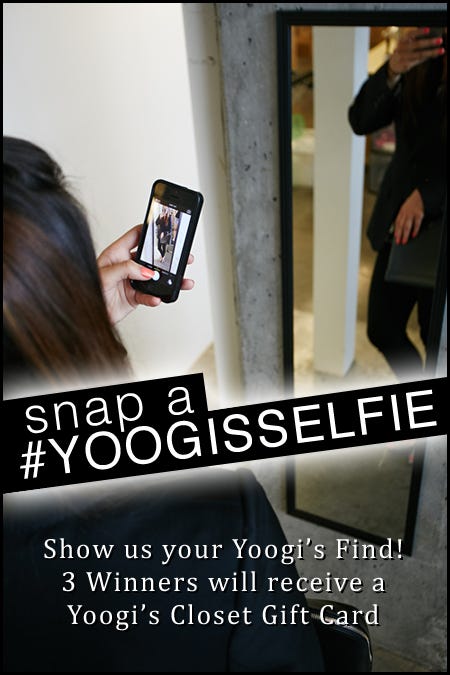 We all do it! Some more than others...so, take out your cell phone, strike a pose and show us your "selfie" of your favorite Yoogi's Closet find and share it with us for a chance to win a Yoogi's Closet gift card!
CONTEST:
To enter, submit your creative "selfie(s)" with captions, showing how much you LOVE your pre-loved Yoogi's bag, accessory, shoes, clothes, jewelry or a combination of all your Yoogi's Closet purchases on:
* You do not have to have your face in the picture to enter.
**All Instagram and Twitter accounts must be public for your photo to be considered. There is no limit to the number of "selfies" submitted each day on Facebook, Instagram or Twitter..
If your entry is the winning entry, you will be required to provide some or all of the following information: your name, address, city, state, zip code, telephone number, and email address.
No photocopied or mechanically reproduced entries will be accepted. For example, all entries must be original photos from the internet. Illegible, incomplete and duplicate entries will be disqualified. Images taken from yoogiscloset.com will be disqualified. All entries become the property of Yoogi's Closet and will not be returned.
Prizes: There will be three (3) Prizes awarded at the end of the Contest Term. The Prizes consists solely of a one (1) $250 and two (2) $100 dollar Yoogi's Closet gift card. No transfer, substitution, or cash equivalent for the Prize permitted.
Winner will be selected based on best pictures, creativity, quality, and suitability of the entry submission. The Prizes are guaranteed to be awarded. Only one Winner per household is permitted. The Winners will notified by e-mail on September 5th, 2014.